New York Liberty forward Michaela Onyenwere proved doubters wrong when she won the WNBA 2021 Rookie of the Year Award. Now, the 22-year-old phenom is making sure NYC girls are supported in their game. 
In 2013, a teenage Michaela Onyenwere had just picked up a basketball and began to get into the game. She had the support and encouragement from her family, the inspiration of her father's own Olympic track career, and a goal in mind: to one day make it to the WNBA.
In 2021, Michaela manifested that dream. She was drafted No. 6 by the New York Liberty, and Michaela's draft moment was iconic — thanks to her grandma.
"This is just who my grandma is," Onyenwere laughed as she recounted what that moment, and her grandmother, mean to her in the context of where she is today.
From the moment she joined the W, Onyenwere became a force in the league. She was named the Rookie of the Month for every month of the 2021 WNBA season, so it was no surprise when she took home the 2021 WNBA Rookie of the Year Award.
Onyenwere was the first player in Liberty history to win the award, a signifier that Michaela has arrived to change basketball in New York City.
So when Mobil 1 approached Onyenwere to team up with Project Backboard on a redesigned basketball court at McCaffrey Playground to encourage young girls to get into the game, the Liberty phenom was immediately on board.
In a conversation with FanSided, Michaela Onyenwere opens up about what the game meant to her as a young girl, what the game means to the people of New York City, and what her journey means to her Nigerian-American family.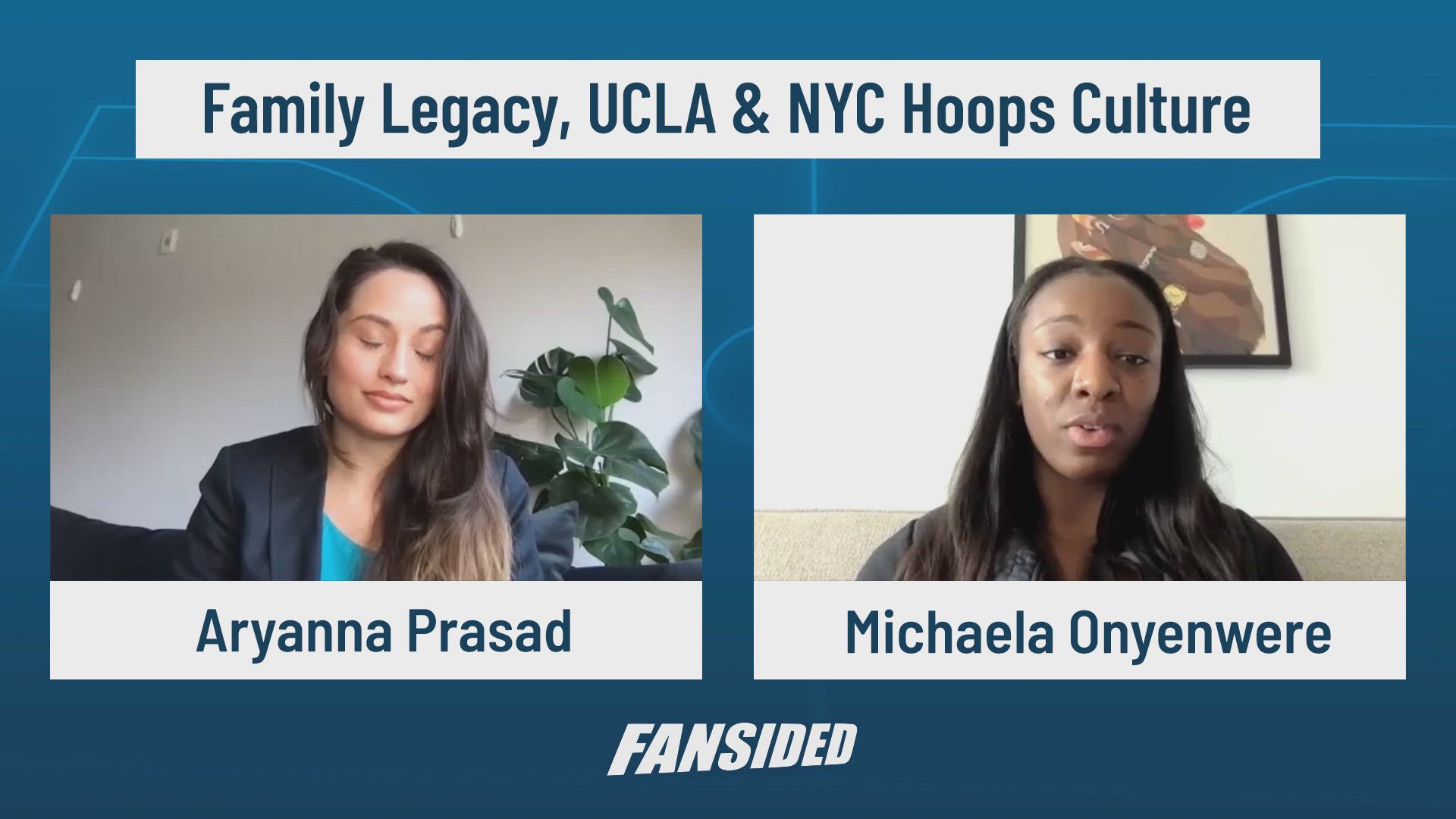 FanSided: I would love to learn more about your partnership with Mobil 1 to bring this vibrant court to McCaffrey Playground.
Michaela Onyenwere: Yeah, for me it was a no-brainer, honestly. When it was brought to me, I was so excited to be able to be partnering with Mobil 1 to be able to give back to this community. New York has kind of become my home over the last year or so, and so to be able to give back to the community especially in this way with the basketball court, I think the artist Andrea Bergart did such a great job just incorporating the flow and the creativity of New York City and the culture here. I'm so excited to see it later on today, and I think it's such a great just addition to New York and New York basketball in general.
FanSided: Definitely. And that's actually something that I wanted to ask you about. You've talked about how much you love being a part of Liberty and what it means to be in New York. And from the spotlight you've gotten, all the love that you've gotten from the city, and then renovating this court, how is the basketball culture in New York different than any other place in the world?
Michaela Onyenwere: I think it just means more here. I come from Colorado, and then I went to school in L.A. where it's a little bit different, and then I come here and it's kind of like a 180-degree shift about the culture, the people… just everything here is just so different, but you feel people are enriched in basketball and just the basketball culture. Whether that's Madison Square Garden or the outdoor courts, you feel it through and through throughout all of the community.
And so to be able to have this initiative where we are literally refurbishing a court to bring that community together, it just shows how important that is to the community, to the culture. I think, as I said, it was a no-brainer for me, and I'm super grateful to be a part of this partnership.
FanSided: Of course. Is there a specific moment maybe whether it was during a game or after game, interacting with a fan, or just hanging out in New York City shooting hoops — was there ever this moment where you're like, "Oh my gosh, this perfectly encapsulates what basketball is in New York City?"
Michaela Onyenwere: Yeah, for sure. I would definitely say it was probably after I won Rookie of the Year. I had a little bit of a ceremony a little bit before the offseason, and there was this older woman who came up to me. She was like, "My niece, she literally looks up to you so much, and she's like four years old."
And just to see the impact that you have as an athlete, you don't really…Once you're playing basketball, you're like, "I'm here. I'm competitive. I'm here to work." But then on the other side, there's so much of an impact that you have, especially to little girls and boys around the local community. And so for her to come up to me and be almost in tears, talking about her little niece and how much she looks up to not only me and myself, but also my teammates in New York Liberty, it was so, so inspiring.
FanSided: And that's what it's all about, right? That must have been an incredible moment. And you're young yourself at just 22, and then you've said in the past that people have doubted you for all these different reasons, right? Because of your age, your height and even the state you come from in Colorado. What does seeing a court like this made for young girls in the game mean to you personally?
Michaela Onyenwere: Yeah, I think that to an extent, a lot of what I've come up from, it's been a lot of doubt and obviously I never let those that try to get to my head at all. But as an athlete, it fuels you. People have said things about me that… I know what I do every day, day in and day out. I know how much work I put in, day in and day out. And so, you know, that kind of fuels you.
So you see a court where there's so much just buy-in and support and so much culture in this court that it's like, I wish I would have had this when I was younger. Obviously I come from Colorado where this is not a staple in the community but you see here where it's like, I love that there's such a buy-in for basketball in that community where the young girls and young boys can continue to elevate their game outdoor on a beautiful court — a beautiful, bright court — right in the middle of New York City. And so yeah, I think it's just such a great addition to the community.
FanSided: Definitely. And I can already envision all these kids enjoying this court, it's absolutely beautiful.
Speaking of you as a young girl, let's get back to that 2013 tweet when you completely manifested getting into the WNBA. That's amazing, right? So now, you're helping teenage girls who are in your shoes, but tell me more about what your life was like when you tweeted that.
Michaela Onyenwere: Yeah, that was around 2013. So in 2013, I was either entering high school or probably just finished my freshman year. I was kind of a late-bloomer, so I started playing when I was like 12. So it was really right after I started playing basketball. And so I'm starting to get into the WNBA and these beautiful, powerful, strong women who are in a league where I aspire to be in. There was so little in my career, but I knew from then, from moment I touched a basketball, that I wanted to be in the WNBA. I wanted to be the representation that I saw on the TV and that I saw in the women that I saw, and then I started really getting into watching college women's basketball. And you grow an attachments to certain teams, like, "Oh, shoot, this could be me."
So it was very, very early recognition from me, from when I started playing basketball, but from that moment, I knew this is something I want to pursue. And by the grace of God, you know, I'm really grateful to be in this position, being on a team that is so, so enriching the culture. I love my teammates. I love my coaches. And so yeah, I'm really excited to be in New York.
FanSided: Of course. Even going back to the whole underestimation thing, you being Pick No. 6 by the Liberty, it was completely meant to be; you proved all the doubters wrong, right?
So you're growing up, and I know you're recruited by quite a few different schools, but you chose to become a Bruin. Why did you decide to go to UCLA?
Michaela Onyenwere: Yeah, I think like at that level, the Division I level, a lot things are the same. The facilities are the same, they're all pretty good basketball programs, etcetera — a lot of the things are very similar.
So it comes down to really what's important to you, and for me, it took a lot of people around me to realize what's really important to me. For me, it was having a good program where I could grow as a woman and as a basketball player, that was paramount of my priorities. And as somebody who's 17, maybe that's not at the forefront, but for me, it was.
And so I think that UCLA just checked off all the boxes for me: great academic program, the number one public university. Then, we had a program where it did mean something to be a better person, to grow as a better woman. And then also you're going to grow just as much as a basketball player, and I can attest to…Now I'm a year out of college or so, I can look back and be like, "I know that in my four years, I chose the right place for me, and I chose the right people. I chose the right system. I chose the right culture to be a part of, and I will never regret ever going to UCLA."
It was the best four years of my life, and those people who I met will forever be people who I continue to talk to years and years to come.
FanSided: One important thing that you did off the court at UCLA, which I think is incredible, is you were a part of founding the Black Student-Athlete Alliance. Can you tell me a little bit about why that was so important to you, especially in 2020 and 2021?
Michaela Onyenwere: Absolutely. We saw just the turmoil that 2020 was, whether that was from COVID becoming a thing to, then, the killing of Black folks during that time. And so, I think it was really important for us as athletes. Athletes have a platform, as much as we don't like it or we do like it, we have a platform to use. And I felt like coming together with the Black athletes that were at UCLA was very important for us to be that.
It was the first of our kind at UCLA, but we came together and we were like, "This is what we want to do, this is what we want to stand for." And I think it was a very big stance that we took, being at UCLA, but we've had so many people before us who we'd seen kind of create that path for us.
And so when that decision was to be made, like, "What do we want to do, where do we want our voices to come through in this movement?" That's kind of where that came from. And so I was grateful to be the co-president of that alliance, and I still see that it's going strong. I still try to check in with the current president, the current vice presidents as well, to see how it's going as well. But it's something I'm really proud about because, like I said, it was the first of its kind at UCLA. I think we did impact change. We did force people to have conversations that maybe they didn't want to have, but that were necessary. And so yeah, I'm really grateful for that, and I'm so proud of what we were able to do with that.
FanSided: Of course. It just proves, again, your leadership on and off the court — who you are, especially with this partnership, you're a leader in so many regards.
And I have to think that some of that has to go back to your family. So when you were drafted, we saw your mom and grandma celebrating. And so when you think back to being a young girl in this game, what are some lessons that your mom and grandma taught you that you keep with you every single day?
Michaela Onyenwere: Yeah, so that viral moment is something I'll never forget. Like that is probably, like, in the top two memories in my entire life. That was the best. This is just who my grandma is.
I come from a Nigerian heritage, and my family were a bunch of immigrants. And so I think with that comes the lesson that you have to be the best, you have to work the hardest, because for them, it was…that's all they knew coming to United States, they wanted to be here to to create a better life for all of us. But it was at the forefront: "You need to be the best, you need to work hard to get what you want." And nothing less than that. And I think that a lot of other Nigerian people will tell you that as well.
And they've instilled that into me into such a great, great way with my brothers and I, and I think that they've been such a great support system for me, whether that was in school, whether that was in basketball, whatever I was doing at the time, they were my biggest supporters, but that was always kind of the message: "In order to get to what you want to do, you need to be the best and you need to work hard, because it's not going to be given to you." And so I'm really grateful for my mom and my grandma. I would not be the woman I am today without both of them.
FanSided: That is so beautiful. And again, that background that you come from of support and inspiration…So I know that your dad was a Nigerian Olympic track and field athlete.
So what does being in the WNBA mean in the context of your family legacy. You just spoke about how you're a first-generation Nigerian-American. So what does this mean for your family to make it here?
Michaela Onyenwere: I think seeing my dad be able to get to the pinnacle of any athlete's career is so humbling and so inspiring. When I was younger, he'd always talk about his medals and I was like, "Dad, like, okay, I know, you've showed me like four times," stuff like that. [Laughs] But now looking back, it's like he really wanted us to see just what success looks like. And he wanted to push us to be like, "This is what you could be. This is where you could be."
And to this day, my dad is like, "You could be the best." He's my biggest fan, my biggest supporter, and I think seeing that from a young age has definitely helped me, as much as I didn't think so at that age. It's definitely helped me to be where I am today, where I see remnants of things my dad has taught me, and my mom has taught me, my grandma has taught me, my grandpa has taught me, and so on and so forth down the line. And so I think having that legacy and carrying that legacy is super, super humbling, and I'm super proud to be able to do that.
FanSided: Of course. And so I'm guessing if you have kids, are you going to be showing them medals and dancing when they get drafted?
Michaela Onyenwere: [Laughs] I'm a little less, like… My dad is very "Ahh" [gestures with hands] person, and I'm a little less… I'm also "Ahh" [gestures with hands] but a little bit less. Like he is a little bit more.
So I think I definitely will. I want my kids to play sports, by God's grace. But yeah, I think that I'll just be trying to be a chill athlete-parent, but of course I'm going to try to push my kids to play sports because it's fun. It's something that brings community and brings camaraderie. So I love it.
FanSided: Of course, that's beautiful.
So you came in hot and you set records for New York, the first Liberty player to win Rookie of the Year, and you won Rookie of the month for every month of your rookie season. So based on the love that you get from the city, what do you think your presence means for New York fans?
Michaela Onyenwere: I think it brings a sense of just newness. Obviously, like you said, there were a lot of firsts for me, but not only firsts for me, but also our team. Like we made the playoffs the first time since 2017, which is a really big deal — making the playoffs is very hard, ending up in the WNBA's top eight teams. And so we're really grateful to be able to do that.
And I think it brings in a level of excitement back to the New York Liberty. Obviously we've had people like Teresa Witherspoon, we've had Becky Hammon, [people] who have done great things for this organization, but in the new modern [era], I think there is a sense of like excitement to being a New York Liberty fan, be a part of this New York Liberty family, and I think with the new additions of our coach, new additions of a few players that we have that we didn't maybe have last year, it brings more excitement. So I think people will see that, fans will see that, the community will see that, and they'll be really excited to be coming to our games.
FanSided: "Excitement" is absolutely the word to describe what you bring.
The WNBA season is starting, that is very exciting. What do you have your sights set on in the 2022 season? What kind of things are you thinking about, maybe goals you want to reach or getting back into the playoffs?
Michaela Onyenwere: Yes, that's definitely one of the goals. I not only want to get back to the playoffs, I want to make it past the first round. I think that we have all the pieces to do so, and I think having that year of experience under our belt from last year is very, very imperative to our success this year. Obviously, we were a newer team last year, we were playing together with new pieces, but now we have experience and we have new pieces again that are experienced, and so I think that'll be good for us.
But playing for the playoffs, and more than the playoffs…For me personally, I just want to be the best teammate that I can be. Like I said, we have a new coach, which means new roles. And so I just want to excel in that role, whatever it may be. And yeah, I'm excited, our [May 7] game's in three days, which I cannot believe. I feel like I just got to New York, and now I'm about to play a game. But yeah, I'm excited for the W season to get back in order.
FanSided: I'm excited as well. I'm excited for you seeing where you go in your career. You've had an incredible first year, and you've already brought so much to New York, especially with this court, and it's going to be beautiful. Michaela, thank you so much for your time today, and good luck this year.
Michaela Onyenwere: Thank you so much. I really appreciate it.